Our Midterm proposal for the China Studio consists not of a top-down developmental approach, but a grounds-up urbanism strategy. What if we what we do on the site straddles both local and regional ambitions, yet remains meaningful and relevant to the community? Can urban design be crowd-sourced? 
We propose a continuous
urban laboratory
in which we engage the public (and private?) in the process of urban development, represented as narratives that create a sense of process. Through a series of urban experiments, this 'laboratory' explores the parallel possibilities of both virtual (AR) and real-world construction along the Tong Hui riverfront.
The Tong Hui riverfront site presents a set of problems and opportunities rife with areas of interest as they relate to our general thesis. These include:
As we analyse the extent of the site, we find that the current conditions present a fine grain site consisting of many low-rise and informal developments, bounded by major axis and roads, and flanked by the Beijing CBD and south Chaoyang residential district. We've divided the site into districts of distinct programmes and identified areas of insurgent spaces (marked in yellow). These areas are forgotten spaces, and we want to work with what's there (and not there) and amplify it. One of the earliest steps is the introduction of an intra-tonghui light rail network that connects the series of insurgent spaces with the main Beijing Railway Station.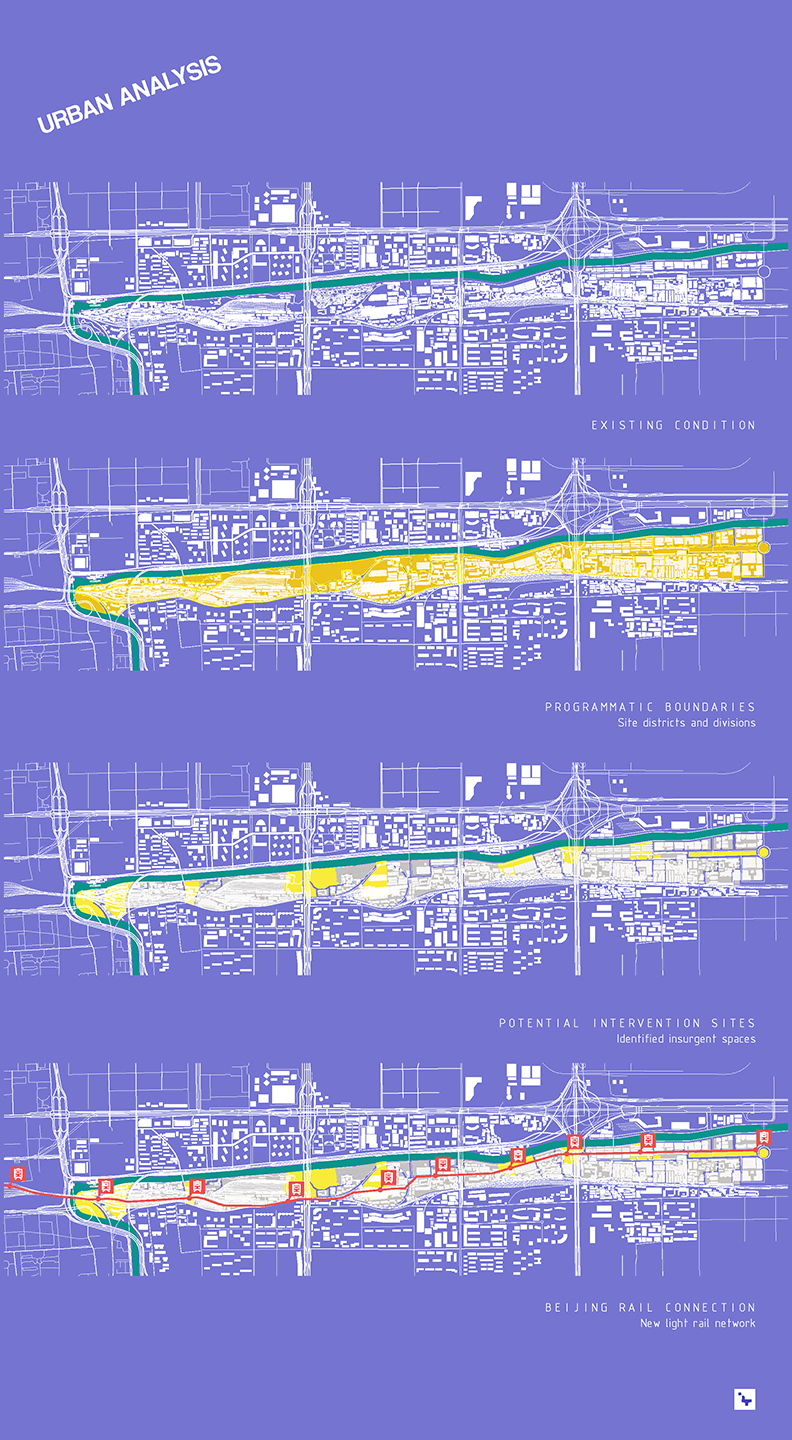 We've organized a mind map of our thoughts, noting the ingredients for a ground-up urbanism, the criticism of the problems and opportunities of the site as mentioned above as well as how it all ties together into the general context of the Tong Hui River.
We see programme not as a singular, unyielding thing, but as a limitless list of possibilities. Below is a sample programmatic asset kit that incorporates a varying range of objects, activities, artefacts, events and buildings (to name a few) that contribute to how we build up the design.
The following narrative series presents an early study of one such experimental insurgent space. We've applied a series of hierarchical developments over the series as well as a graphical narrative element to describe a potential scenario for what may happen to this space. These developments include: Infrastructural, Developer Ambitions, Cultural Hotspots, and Community Initiatives.
The primary negotiating factor is through naturalized programme being increasingly formalized as it begins to expand and take over under-utilized space. Over time, an industrial landscape and insurgent space becomes the grounds for a destination.
In one of its later stages, the railway campus becomes formally developed, and begins expanding beyond the existing test track circle. The narrative once again tells stories as it relates to the uses of the space as well as development discussions surrounding each major programme piece. 
As we move forward with our laboratory of experiments, we hope to touch on additional insurgent spaces along the rail network, each with its own character and existing landscape to work with and build upon.